Note
Publishing jobs on job boards is available only to subscribers and not accessible to free trial accounts. Refer to this article for more information on how to subscribe.
Important
In order to publish jobs on job boards directly from Manatal, your career page must be enabled. Refer to this article to learn more about enabling and disabling your career page.
Posting on LinkedIn requires a job description with a minimum of 100 characters to be included, a job title and a location.
Jobs can be excluded from posting if they do not meet LinkedIn's quality guidelines.
Manatal offers two options when it comes to posting your jobs to LinkedIn:
Post "Limited Listings" to LinkedIn. Through this channel, you can publish jobs directly to your LinkedIn Company Page. These are then visible to candidates actively conducting a job search, or visiting your Company Page. Limited Listings receive limited active promotion to LinkedIn members as compared to premium postings.
In order to increase the exposure of their job ads, Manatal users also have the option to post premium job ads to LinkedIn. Please refer to the following article for more details on premium job ad posting.
In order to post your jobs on LinkedIn using Limited Listings, please follow the two steps below:
Enable the LinkedIn job posting integration (this has to be done only once)
Important
Be aware that the term "applicant" (#1) on your LinkedIn job post refers to LinkedIn users that have clicked on the "Apply" button of that job post (#2). This does not mean that all those "applicants" have submitted their application on your career page, therefore the number of "applicants" mentioned on your job post might be higher than the number of candidates you actually receive in that job's pipeline in Manatal.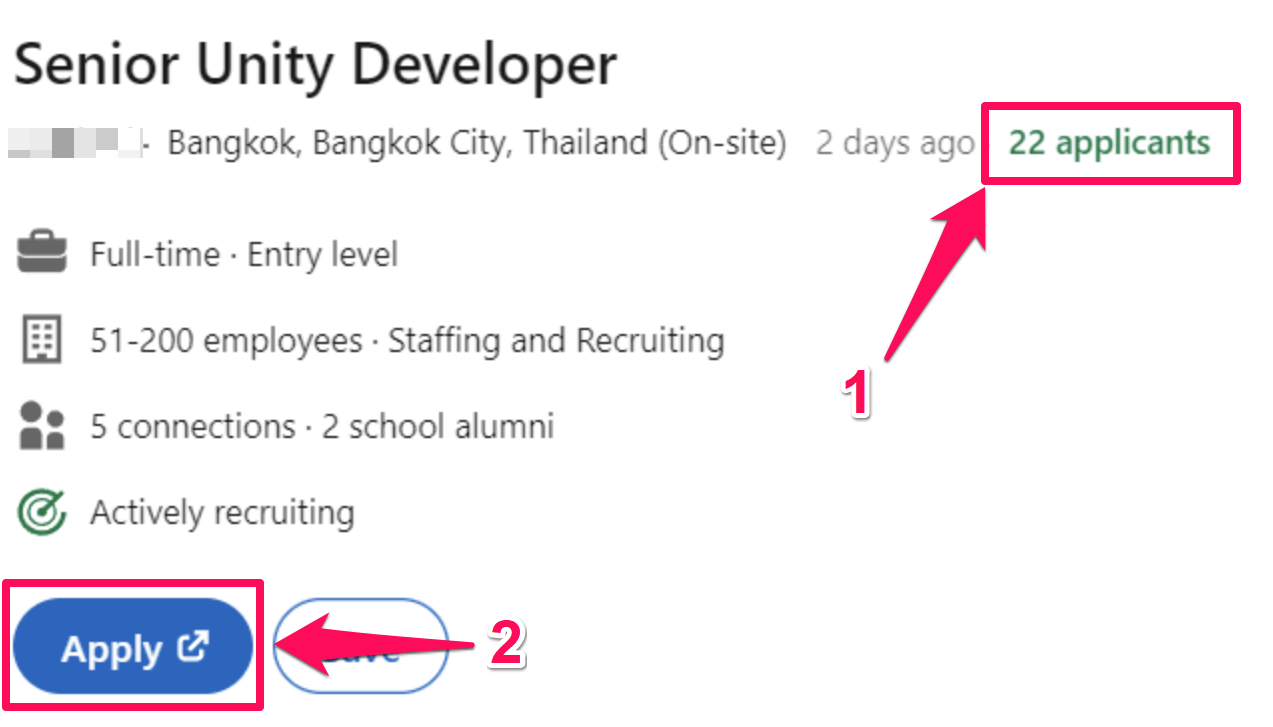 Enable the LinkedIn Job Posting Integration
Head to the following page. Alternatively, click on "Administration" from your side menu, open the "Job Boards" category and then click on "View Free Job Boards".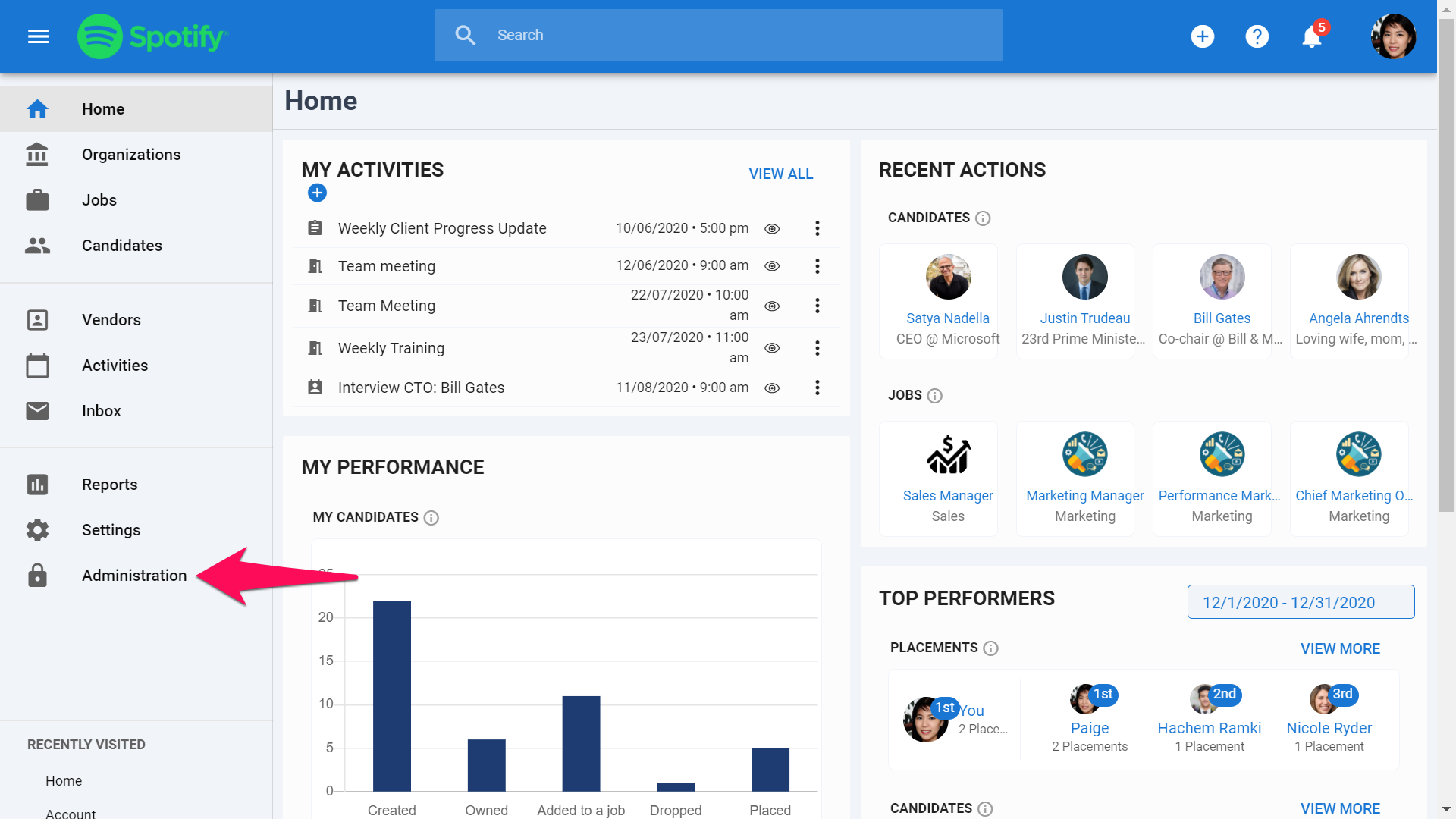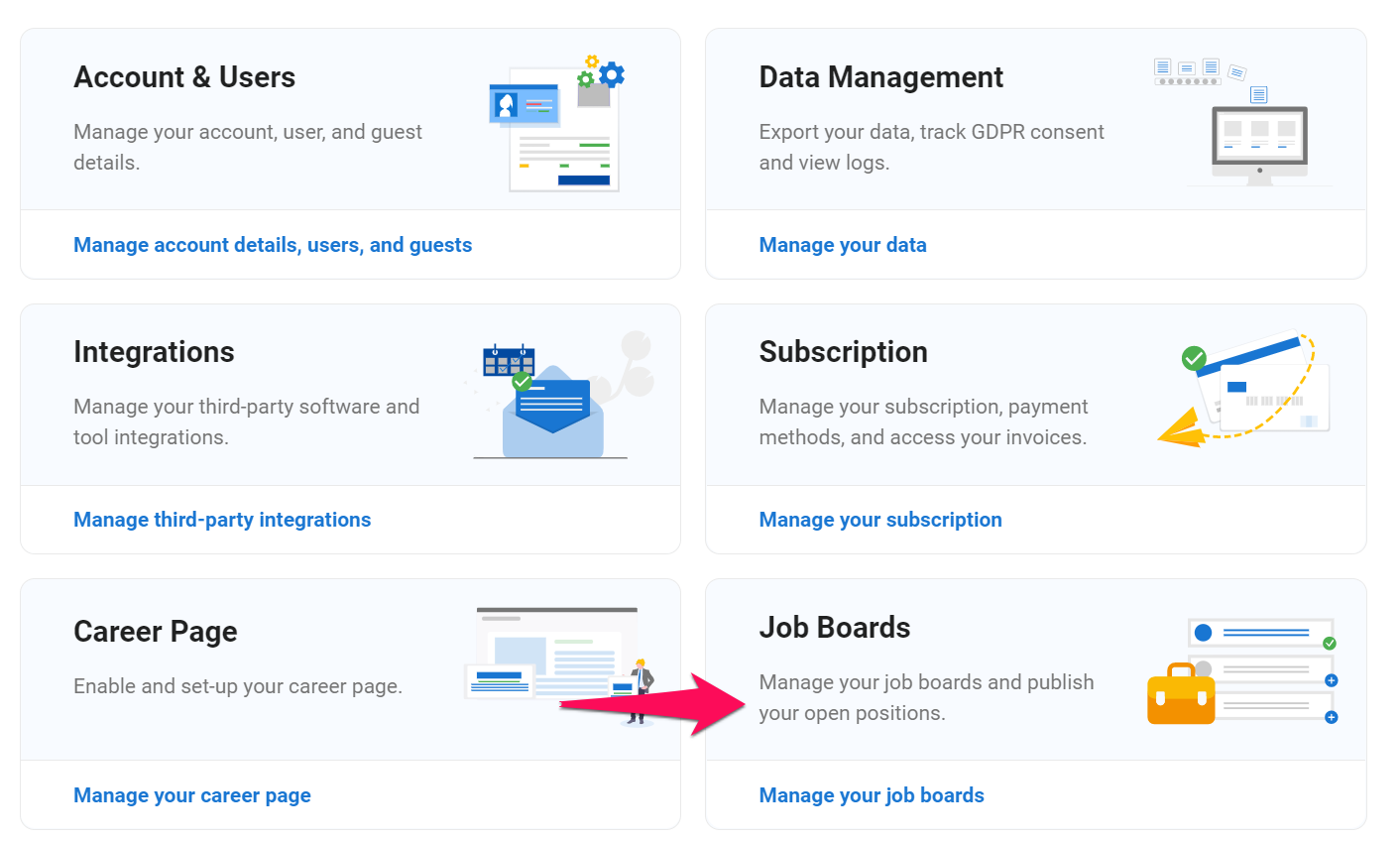 Click on "Enable" beneath the LinkedIn logo.


To complete enabling job posting to LinkedIn:

Enter your company's LinkedIn ID. This will allow the jobs you share to LinkedIn to appear on your LinkedIn Company Page. Refer to this article for more information on how to retrieve your company's LinkedIn ID.
Tick the box to agree to LinkedIn's Terms & Conditions and Privacy Policy
Tick the box if you wish to publish all the jobs you currently have on your career page to LinkedIn (jobs that are not on your career page will have to be published manually as shown below)
Click "Enable" to activate the integration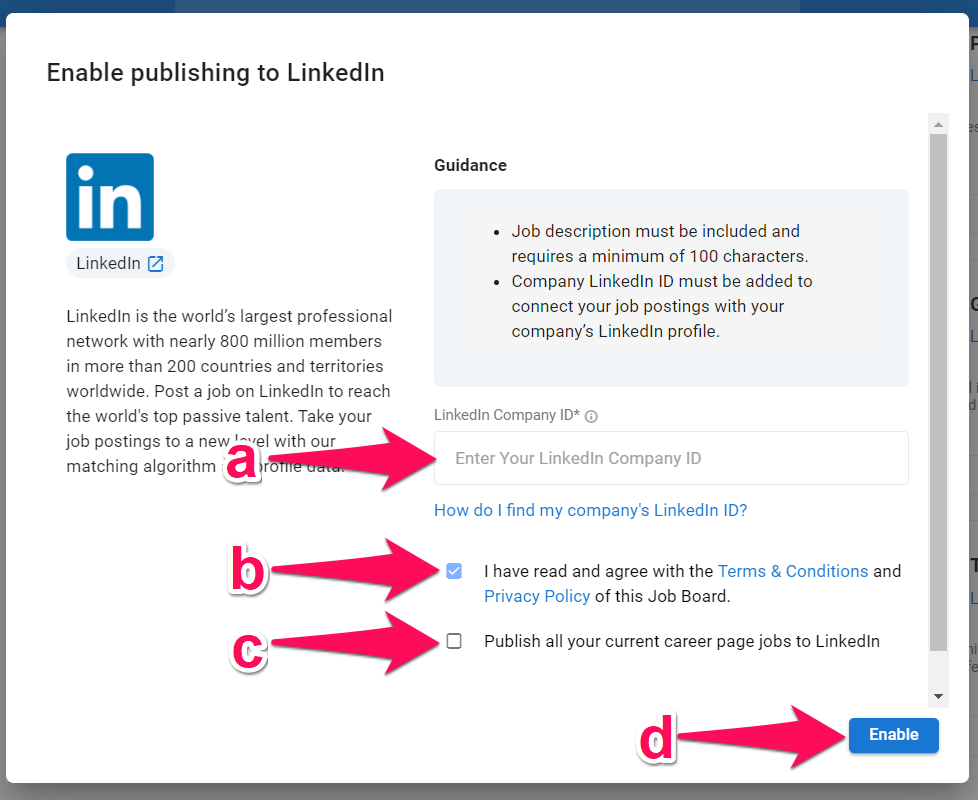 Sharing your Jobs to LinkedIn
To publish a job on LinkedIn, click on the "Sourcing" tab and then on "Job Boards" when on a job page.


Click on "Job Posting".


Click on the "+" icon next to LinkedIn.


Click on "Publish" to have the job published to LinkedIn.
Important
Be aware that employees with access to your LinkedIn company page have the ability to "Claim Jobs" on LinkedIn that are posted to your company profile page through Manatal. This will have the effect of sending applications to the person who has claimed the job instead of sending candidates to Manatal. As such we recommend that jobs posted through Manatal should not be claimed as to ensure all applications are sent to your Manatal account.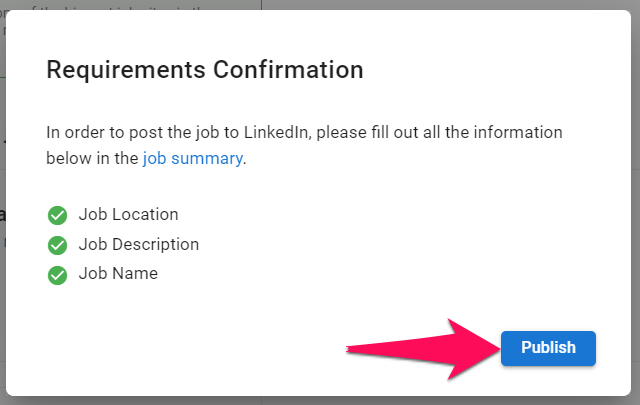 ---
Was this article helpful?
---
What's Next