Share feedback
Thanks for sharing your feedback!
What is the Recommendation Engine?
The recommendation engine is a feature that compares and ranks candidates. It also assigns them scores when recommending them for certain jobs. It is powered by artificial intelligence which scores candidates based on parameters extracted from a job description such as specific skills, spoken languages, degree, location, current and past experiences,...
How to use the Recommendation Engine
In order to use the recommendation engine, you must first add a description to the job you want to use this feature for.


Once you have added a job description, head to the "Recommendation" tab on the job page. The recommendation engine should have already populated the page with skills and parameters extracted from the job description.


To add or remove a search criteria, click on a field then search and select your criteria from the dropdown menu. Click on the "X" symbol next to a criteria to remove it. You can add multiple criteria elements per field.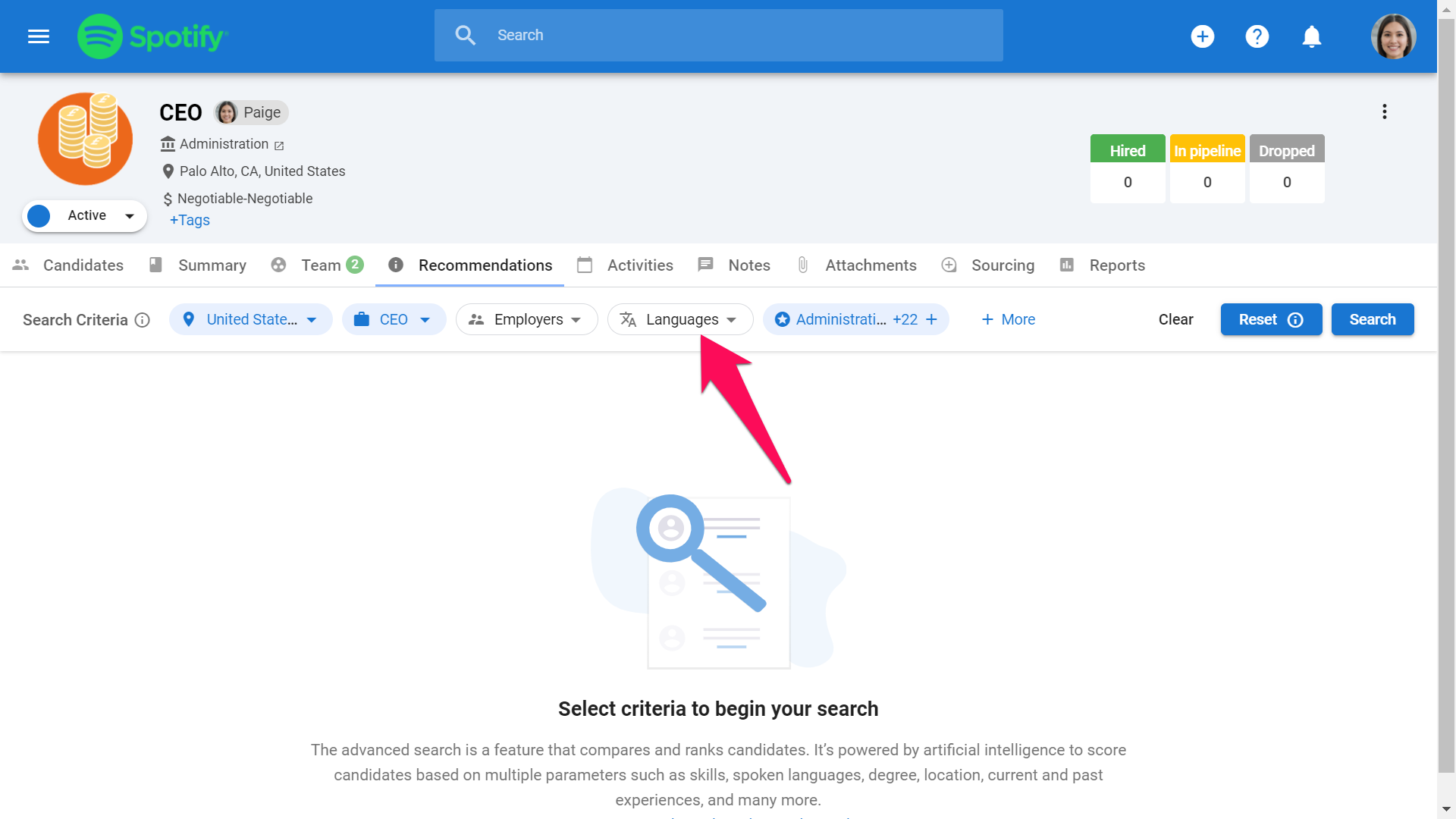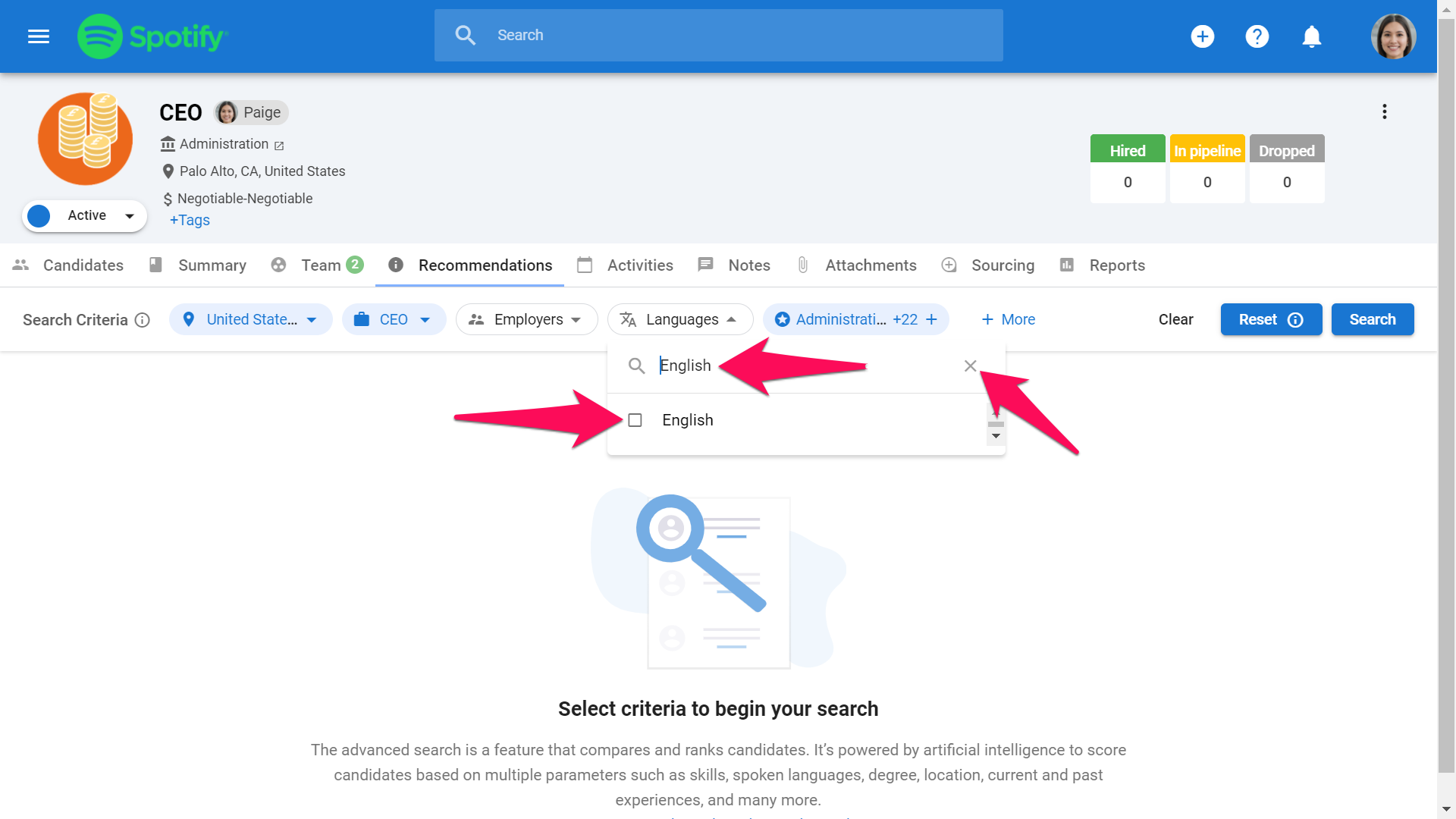 To add a skill click on the star icon and then on "Add skills" in the pop-up window.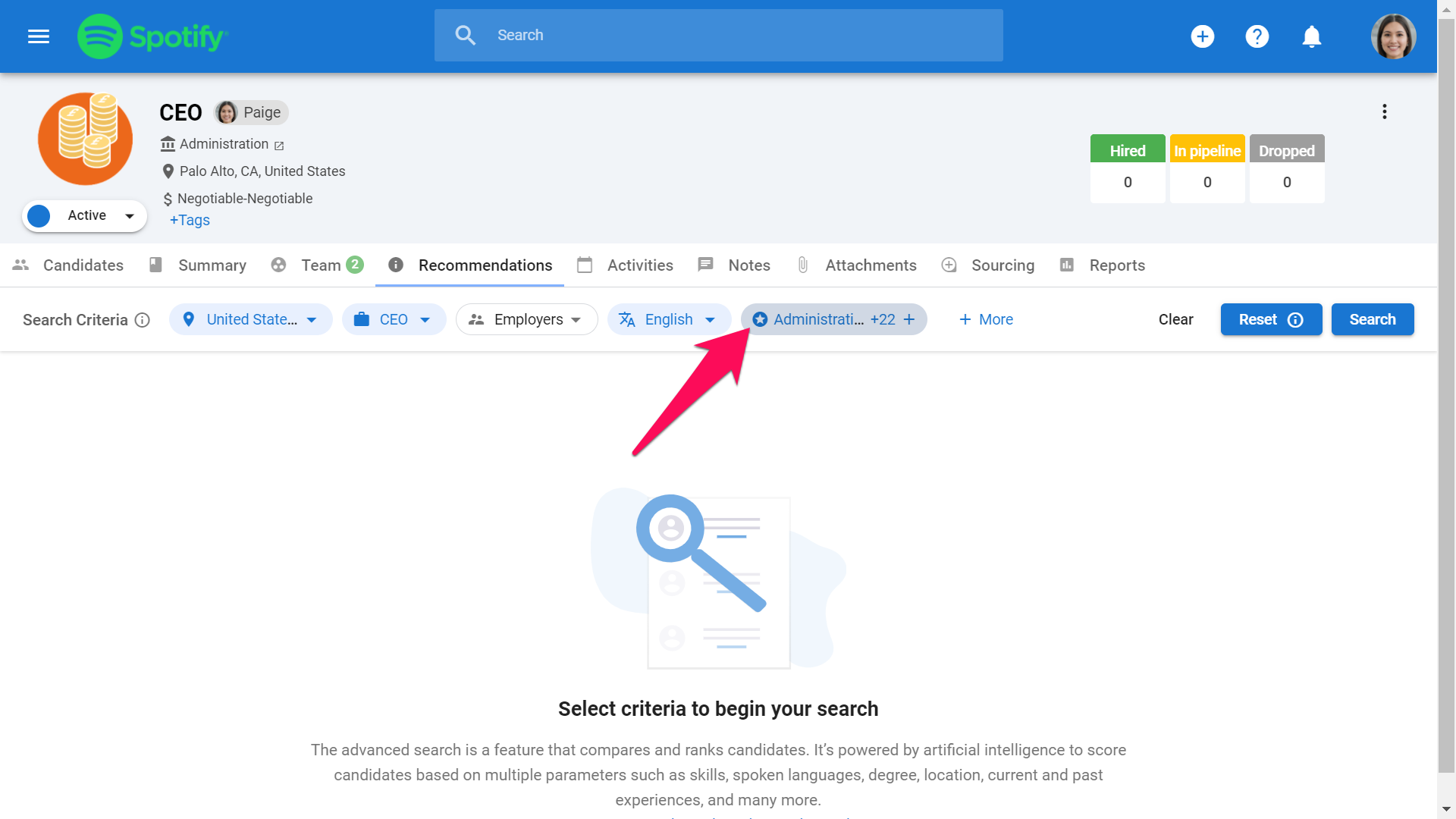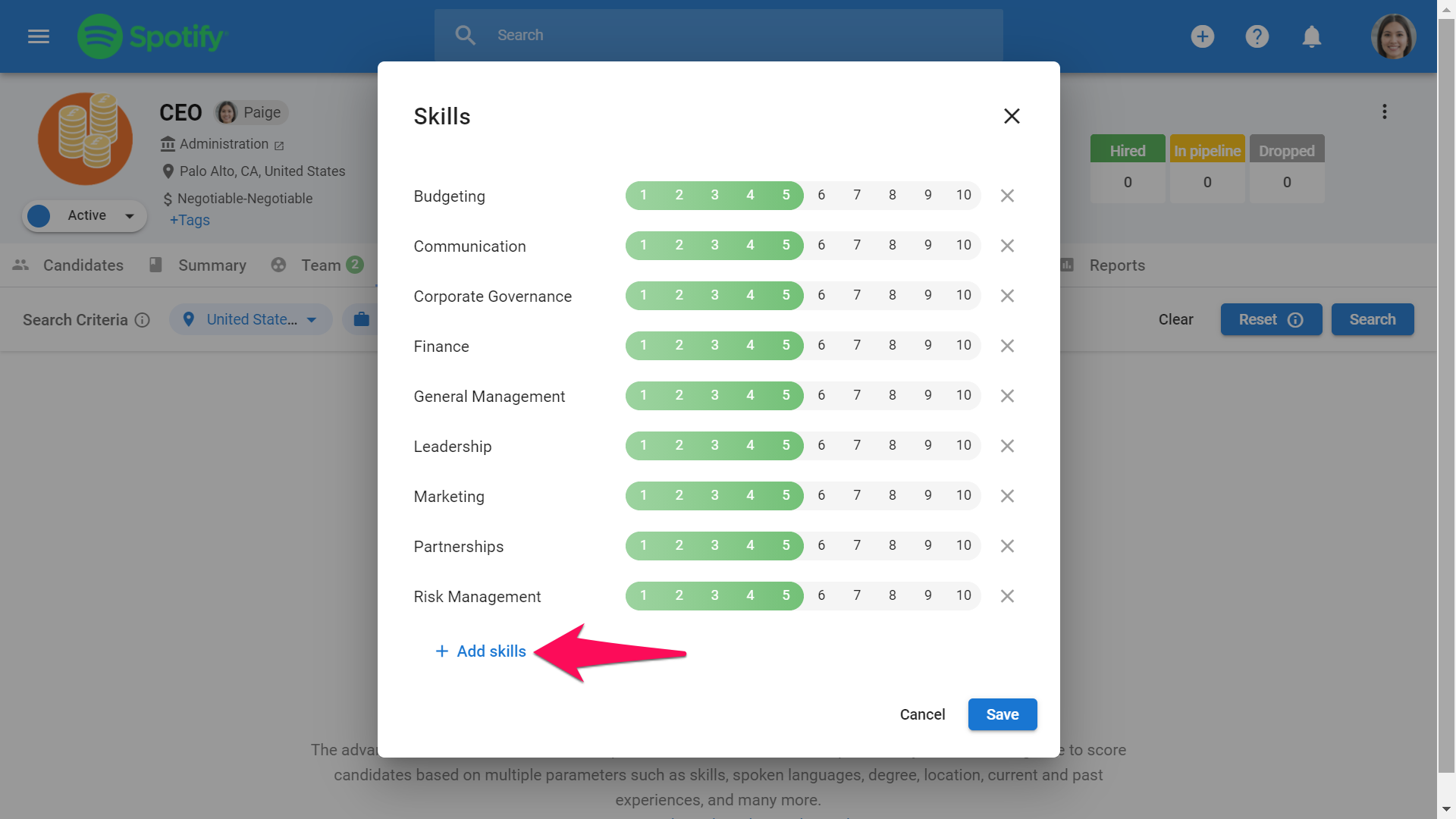 In the window, start typing the skill you are looking for. A drop down menu will appear, click the skill that matches what you are looking.


The numbered bar allows you to set how critical the skill is for the search. The higher the number the more value is given to that specific skill. This will be taken into account when assessing all candidates by adapting candidate scores based on who possesses more critical skills.


Click on the "X" icon to remove a skill, and click "Save" once you have added all the required skills.


When you have set all the criteria for the search, click "Search".


The results page will sort candidates by scores. Scores are displayed under the candidates' photos as per arrow 1. Matching criteria are displayed as per arrows 2. By clicking on the "+" to the right of the candidate, you can add them directly to a job. By clicking the grey eye icon just next to the "+", you can have a quick look at their profile.


You can further filter your results by selecting filters on the lefthand. Click "Filter" once you have selected new filters.
Note
By ticking the "Required" box next to a search field, you will only be shown results that include that search criterion. If unticked, results that include the search criterion will score higher, but other results that do not include it will still be part of the results.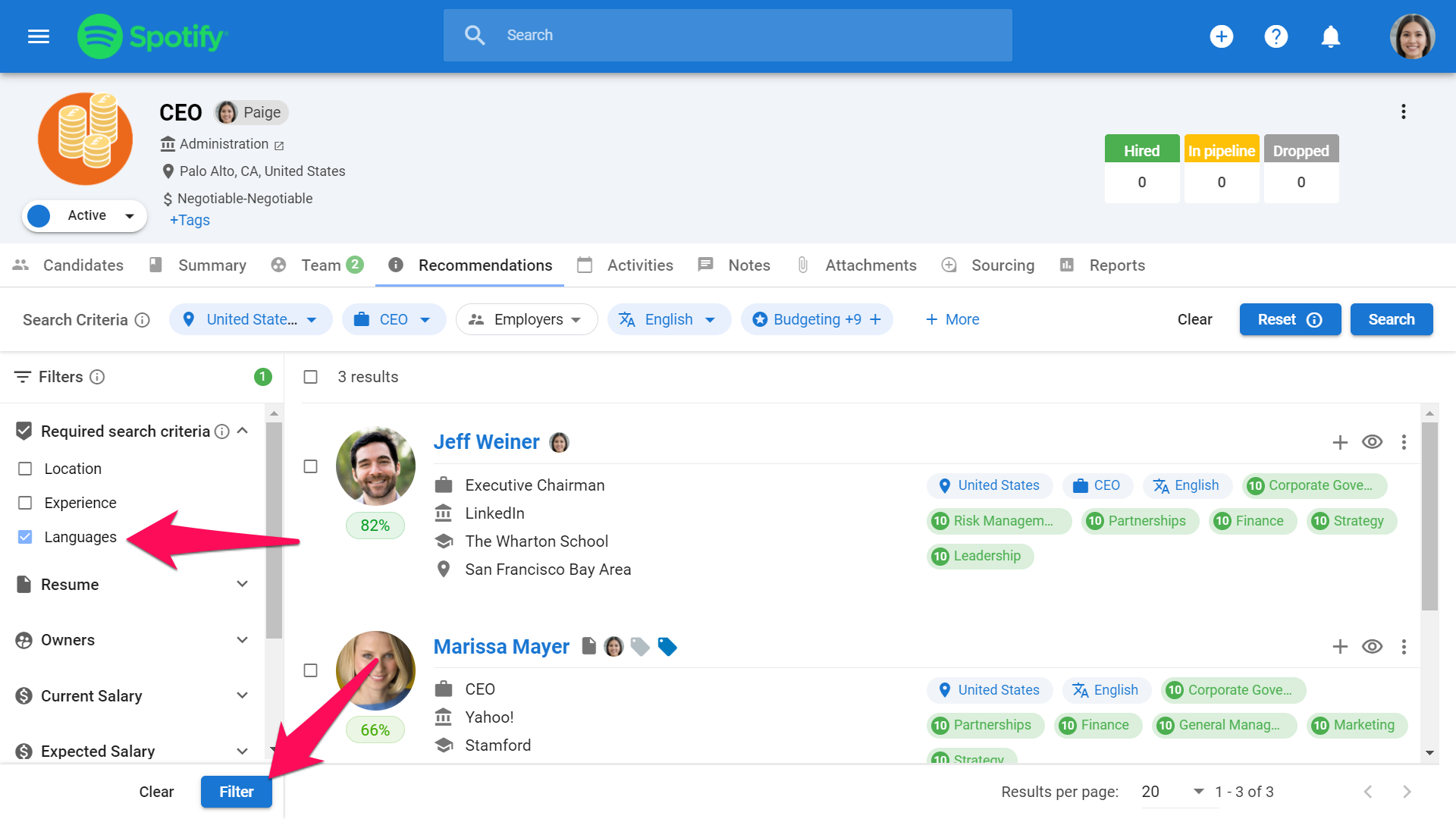 Your search criteria will be saved so that you can leave the page and return at a later time to resume your search. To reset your search criteria, click on "Clear". To reset the search criteria, according the the job description, click "Reset".

---
Was this article helpful?
---
What's Next